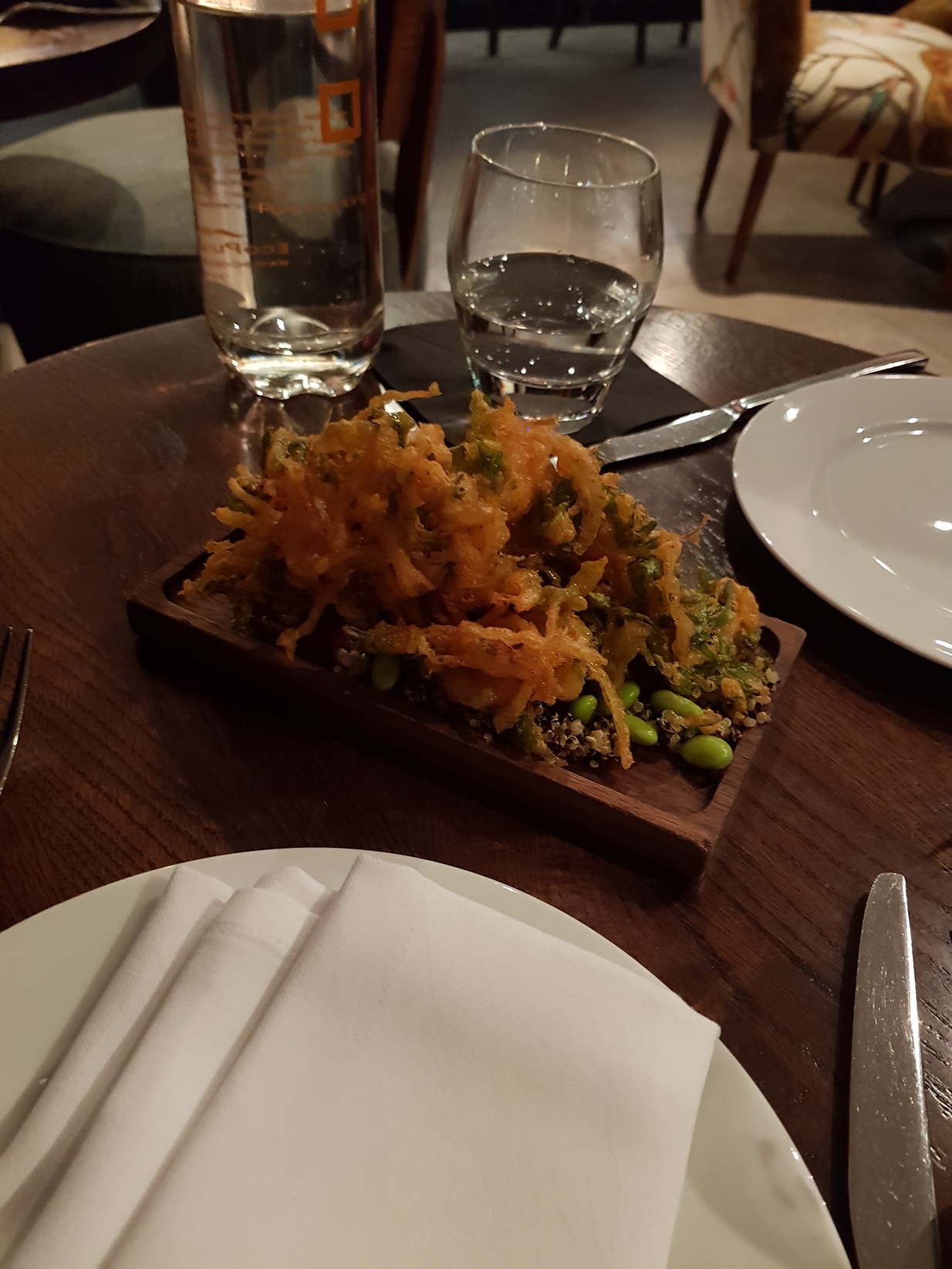 Review: Benares Restaurant, Mayfair, London
11/02/2018
If you enjoy Indian food and equally appreciate fine dining, then you will love Benares.  Benares is a Michelin-starred restaurant in the affluent Mayfair area of London, who serve up a fusion of Indian/British cuisine. In keeping with the location, the restaurant is sophisticated, classy and chic.  The décor in the main dining area is elegant, yet warm and relaxed with dimmed lights with dark earthy tones accented with copper, gold and Asian artefacts. The bar area feels a little more, trendy with a number of cosy dining chairs around smaller tables; bar stools and background music.
My first visit to Benares was for a corporate event, where we were served tasty canapes, alongside their signature cocktails. The Passion Fruit Chutney Martini is to die for! Whilst there, I was personally shown around by their acclaimed chef, Atul Kochhar. He presented their private dining rooms, all of which were impressive.  Each room is unique, with one The Chefs Table, including an en-suite chef's gallery where you can view the chefs at work. After this visit, I promised to return to try out some of the dishes from their main menu.  The a la carte menu is however a bit pricey and I am holding out for a suitable occasion. Therefore, on my second visit I went for the Benares Indian Street Food menu, a five-course sharing menu for two (£30). The menu is made up of dishes from every corner of India and pays homage to the diverse cuisines of each region and stays true to original preparations and recipes passed down through generations. I reserved my table through Booktable, who were offering this menu for £20 per person, including a cocktail. Of course I had the Passion Fruit Martini again! This menu is served in the more casual bar area – The Lounge. Staff were friendly and attentive and brought our dishes out one by one as and when we were ready for them.  Each dish looked like a work of art. Everything was tasty too. Although I would say that in comparison to most Indian food that I have tasted, the spice level was quite mellow.  The portions are quite small and the menu is altogether light and not too filling, but perfect to accompany after-work drinks.
The Benares Indian Street Food menu includes:
Chicken Tikka Crispy Naan with Smoked Tomato Dressing, inspired by the Punjab region of North West India
Lamb Kofta Roll with Mint and Coriander Salad, typically found in Lucknow, North East India
Grilled Curry Leaf Seabass and Seasonal Salad, a classic Southern Indian dish found in Goa
Quinoa Salad, Samphire and Red Onion Bhajia – from the East Indian region of Kolkata
Pickled Prawn with Crispy Rice Pani Puri a specialityfrom Mumbai, West India.
I would recommend Benares to anyone who likes the idea of Indian fine dining. I definitely intend to visit again to try out their main menu.  It's the perfect destination for after-work drinks, a cosy date or a large group booking.