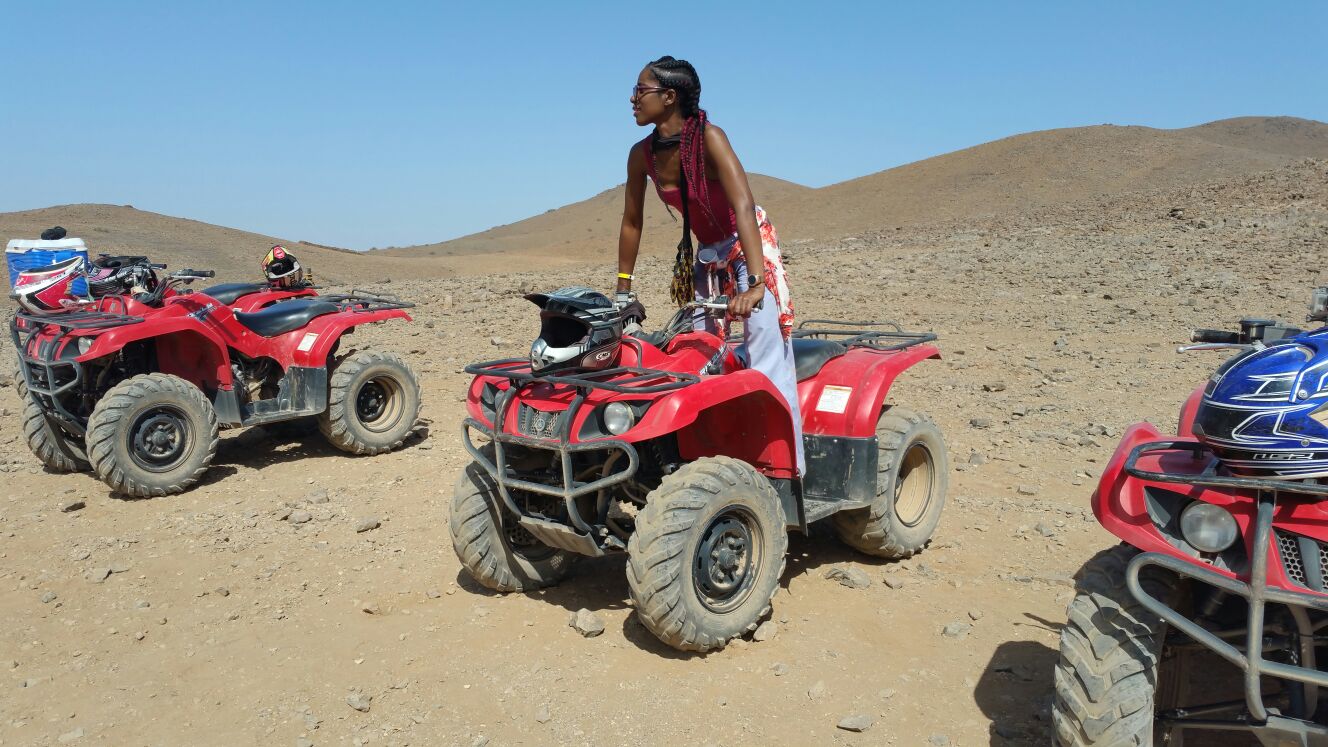 Review: Dunes & Desert quad bike and camel ride combo, Marrakech
30/10/2017
My boyfriend and I spent an exhilarating day with the Dunes and Deserts excursion group in Marrakech. One of the things I wanted to do in whilst in Morocco was to ride a camel. I had sat on a camel before on a previous holiday, but had never actually ridden one. After perusing the excursion options advertised at our hotel, we narrowed it down to three things that we definitely wanted to do: camel riding, quad bike riding and a day exploring the souk markets. There seemed to be many variations of these three events. As well as tours of Marrakech, the surrounding mountains and overnight stays in other Morocco cities. We decided to head back to our room to review all the options in more detail, when by chance (maybe fate) we bumped into a couple who had just returned from an all-day combined camel riding and quad bike excursion. They were absolutely raving about it and suggested we do the same excursion. The company they recommend was not any of the three advertised at our hotel. They found it online. We investigated more and found that It had brilliant reviews on TripAdvisor. It seemed to be better value for money than any of those we had already looked at. We also checked their website and after reading the recent reviews there, we were convinced that they were the best excursion company to book with. We chose their Quad & Camel Combo package. Their all-day adventure combo included 2 hours Camel trekking through the desert in the morning, lunch, then a two-hour quad bike riding to and from the mountains. The cost of this package was 95 euros per person. This included hotel pick up and return. Lunch, refreshments, water, all safety gear etc.
On the morning of our excursion we waited in our lobby at 8.30 for our taxi driver. He arrived on time – good start. It was a mini bus and the driver informed us that he needed to make three more stops. So en route we picked up three couples at three different hotels. The people in our mini bus were to do the same excursions as us and soon become our buddies for the day. Once we got to the Dunes & Desert base location, we were led to an outside area under a tent where mint tea and water was available. A team member then sat with each couple and explained the itinerary, the rules for the day and gave us safety advice. Lockers were available to secure our belongings if needed. We were doing a double excursion and I realised then it was going to be a long day. After signing the agreement and insurance forms, we were provided with a traditional head wrap (tied for us by one of the team) and then introduced to our camels.  There were six camels tied together all in a stooped position. My camel's name was Kadeesha.
We mounted them one by one, and then they all stood up. They were reasonably easy to mount but the motion of the camels moving from seated to standing was a little scary as there was a distinct forward jolt. When the camel started moving I initially found it to be very jerky and found myself gripping the safety bar very tightly and clenching my thighs in order to stay in position. Eventually I got used to the rhythm, relaxed a bit and could even take a photo or two with one hand.  We were escorted by two local guides, they walked along-side the camels and guided them, whilst keeping us entertained with conversation. They also had cameras of their own and took a few photos of our group and some individual photos. After about 35 minutes of trekking through the desert and passing the occasional palm grove, we arrived at the home of a local Berber family.  This was a relief for me as it felt like we were in the middle of nowhere and I was by now extremely hot from the burning sun.  I recommend wearing a high factor sunscreen and something that covers your legs and feet.
As we dismounted, again a sudden jolt, I noticed that my legs were trembling. Apparently, this is because I was tense and had been clenching too much whilst trying to stay balanced on the camel. Some of the others experienced the same also. We were asked to wash our hands before being allowed to enter the sheltered area outside their home.  Floor cushions were laid out around three low tables.  We were introduced to the owner who served us fresh mint tea – something I came to love in Morocco. There was also plenty of refreshing cold water and delicious Moroccan crepes with syrup (called msemen). We used this opportunity to get to know the other couples who were on our convoy. Our host also entertained us with stories and told us a bit about the area and some Moroccan traditions. He was quite charismatic.
I felt content after our tea break, and at that point didn't relish the idea of getting back on the camel to do the 30 minutes trek back to base. But it had to be done. Actually, the journey back felt quicker and more relaxed.  Once there, we were given water and were able to freshen up quickly before starting the second part of our day.
The quad bike ride to the mountains
We were provided with protective goggles, helmets and gloves.  Our guide (Mohammed) then gave us a safety equipment briefing and instructions on how to operate our Yamaha quad bike.  He demonstrated how to start, stop, turn, and the best distance to stay from the person in front.  We were to follow him.  On his bike I could see that he had a cool box with water and I am hoping some sort of first aid kit.  We started off quite slowly and I was tentative at first but after a few minutes I got the hang of the it. The road was dusty and a bit rocky in some places and Mohammed therefore took us on some winding routes through the desert.  I found it quite thrilling and enjoyed the adventure of whizzing through the desert.  After riding for about 15 minutes Mohammed stopped and informed us that he wanted to increase the speed as we headed towards the mountains.  As the terrain would be more rough and rocky he asked the women if they wanted to share a bike with him for this part. I was in two minds and a little put out that he asked, as I felt that the women were managing just as well as the men, but in the end decided that maybe it was best, since I did not know what was ahead.  I therefore got onto his bike. He sat behind with me in control, but he was there to help me manoeuvre any tricky landscape.  Whilst riding along I definitely got the impression that he knew every nook and cranny of the desert. He was able to warn me in good time of any rocky or dangerous areas. We sped through the desert, up to towards the mountains.  This was the best part of the day for me.  Once at the mountains we stopped for refreshments and spent some time there just taking in the view.  We were at the foot of the Atlas Mountains and from there we could see jbilets and could just about see The Kutobia mosque in the main city of Marrakech.  On our return ride we stopped off at the Berber family home again.  This time we sat down for lunch. It was, a traditional Moroccan meal.  We started with salad and Moroccan bread, then tucked into a tasty beef and vegetable stew, cooked and served in a tagine, which was followed by fresh fruit.  There was also plenty of mint tea, soft drinks and water.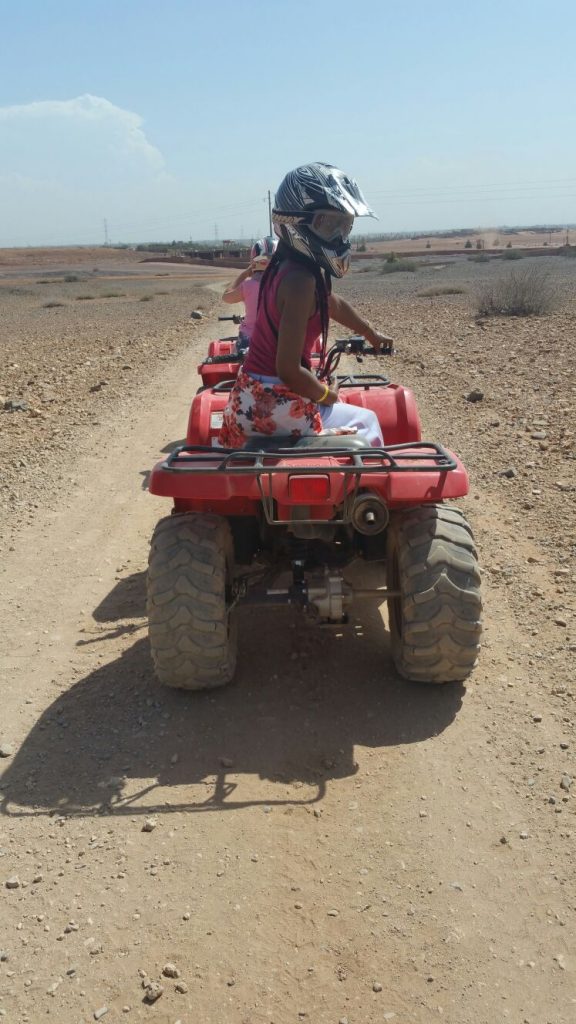 The last leg back to base took about 20 minutes.  By this time everyone in our group was confident on their bikes.  As we sped back I felt an adrenaline rush.  I did not want this part of the day to end.  Once back, they helped each of us to remove our safety equipment.  Our clothes were now thick with dust, a dirty brown colour.  Be sure not to wear your any clothes/shoes that you are precious about. Luckily, we each got dusted off with an air compressor by one of the crew. This helped to remove most of the dirt.  Within a few minutes, our taxi arrived to take us back to our hotels. All in all, this was a very full and exciting day that I will never forget.  We made a few friends and had a great adventure.  I loved it.