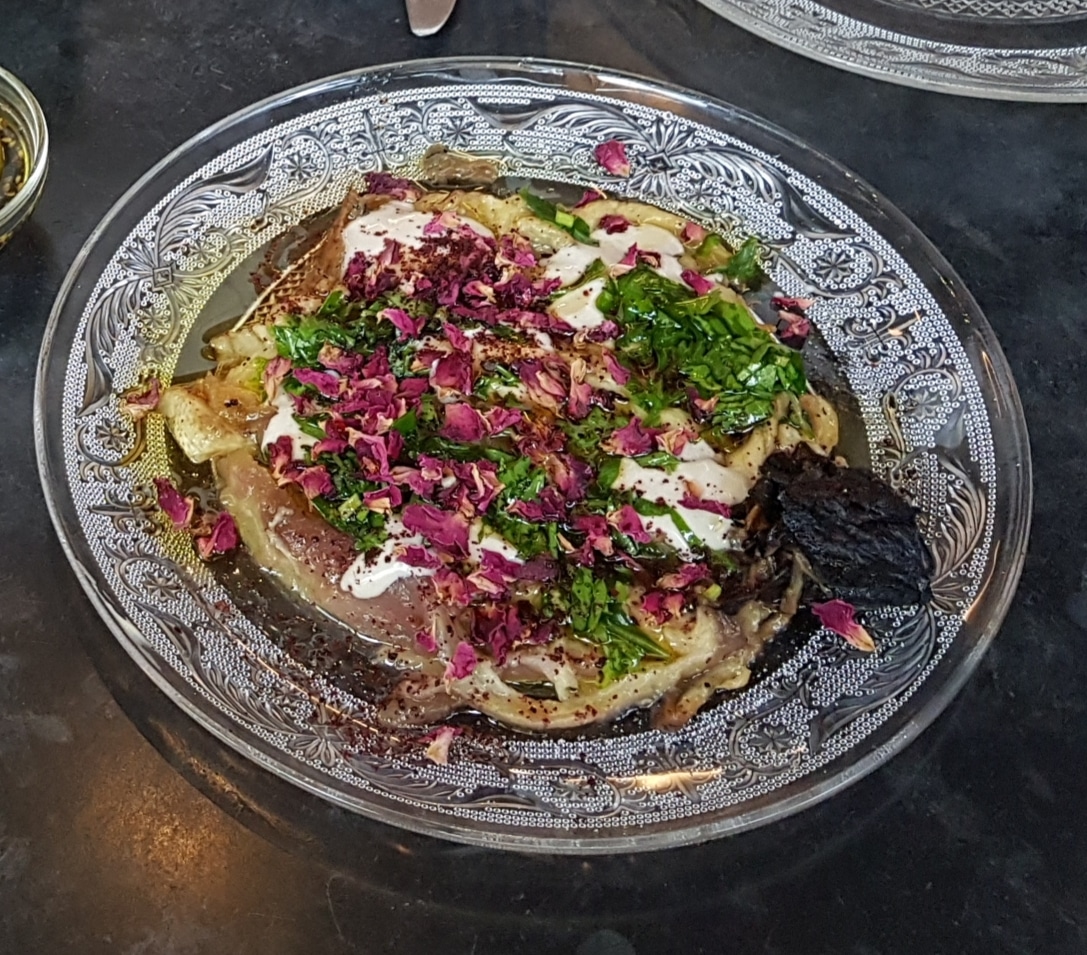 Review: Bala Baya Mediterranean Restaurant, Southwark, London
23/06/2018
I am always looking out for interesting places to dine, where I can sample either traditional cuisines done uniquely, or try out dishes that I've never had before.  Bala Baya, in Southwark, ticked both boxes. It serves traditional Israeli recipes from the Tel Aviv region and also incorporates some contemporary twists.  All of this in a very modern industrial surrounding.
I was invited to join few friends for a birthday dinner and was immediately excited when I browsed the very extensive menu.  I didn't know where to start.
I had never dined out in Southwark before, so was surprised to find that there was a little foodie hotspot called the Old Union Yard Arches a short walk away from the station. There is a row of buzzy looking restaurants, each situated in their own railway arch.  I made a mental note to check out the other eateries in the future. For now, my attention was with Bala Baya.
My first impression was that the staff were extremely welcoming to their guests, most of which seemed to be regulars.  I could also sense a light-hearted family-type bond amongst staff.  Our waiter, Dimitri, was very welcoming and gave us the option to sit either upstairs or downstairs.  Both areas were pleasant, but downstairs seemed to have more atmosphere. Also, it was a warm sunny evening so we opted for downstairs by the window (as no tables were free in their small outside dining area).
For dinner you can choose from several small plate dishes (tapas style).  They suggested 3-4 dishes per person which we could share.  This was perfect for me as it gave me the opportunity to sample a few dishes.  There were 4 of us, so we pretty much ordered every small plate dish and were not disappointed (There were also some large plate dishes in the Feast section).  I like to be adventurous with food, so was happy to give some of the more unfamiliar dishes a try.  The Aubergine Mess was surprisingly tasty, but my favourite dish was the roasted Cauliflower (a popular veg at the moment), followed by the Crispy, Sticky, Crunchy chicken and the and Potato Tempura.  Everything they brought out was extremely tasty and nicely presented on traditional glass tableware.  The food was cooked in an open kitchen and each dish brought out one by one, as and when ready.  Whilst we waited, we were provided with freshly cooked flat bread pitta and hummus to graze on.  Halfway through our meal, the Maître D came over and highly recommended the Kebab Dumplings (semolina ravioli type parcels filled with lamb). She was very passionate and animated in her description of this dish.  It was her favourite, therefore we felt obliged to try it. We enjoyed the dish, however, we each felt that it did not live up to its introduction and flailed in comparison to the other dishes we had tried.  Definitely worth a try though. Although the servings were quite small we ended up with more food than we could finish.  Therefore, between us we ordered one dessert to share.  It was quite a blind choice as we had no idea what some of them were. We decided on The Filthy (Mascarpone, tahini, tonka cream, milk caramel, sesame crumble & banana compo). For me, the desserts were not as appealing as the main dishes.
Their cocktail list did not disappoint either.  There was a good selection to choose from. Some with middle eastern sounding names like Artichoke Julep and Gazozini.  I went for a simple grapefruit and thyme Gazoz (non-alcoholic), which was very refreshing and needed to counter the many flavours I was encountering.  There was also a good choice of beers, spirits and hot drinks. However I could not see a wine list (despite some of the cocktails being Prosecco based).  Our waiter also gave us all a complimentary digestif cocktail whilst we were waiting for the bill (an Ouzo/Gazoz shot). Nice touch!
Bala Baya is also a bakery by day serving sweet and savoury pastries to eat in or takeaway.  They also have a tasting menu and a weekend Brunch and Roast menu, serving larger dishes.  All to be sampled on another visit. The only thing that didn't quite sync for me was the blend of very modern industrial décor with the very traditional Tel Aviv plates and cutlery etc. It wasn't in keeping. Just a minor gripe.
All in all, I thoroughly enjoyed my visit to Baya Bala.  It's one of my best dining experiences so far this year.  Good atmosphere, good food with plenty of choice (plus good friends). The perfect formula.  I plan to revisit and recommend you do too.  You won't be disappointed.