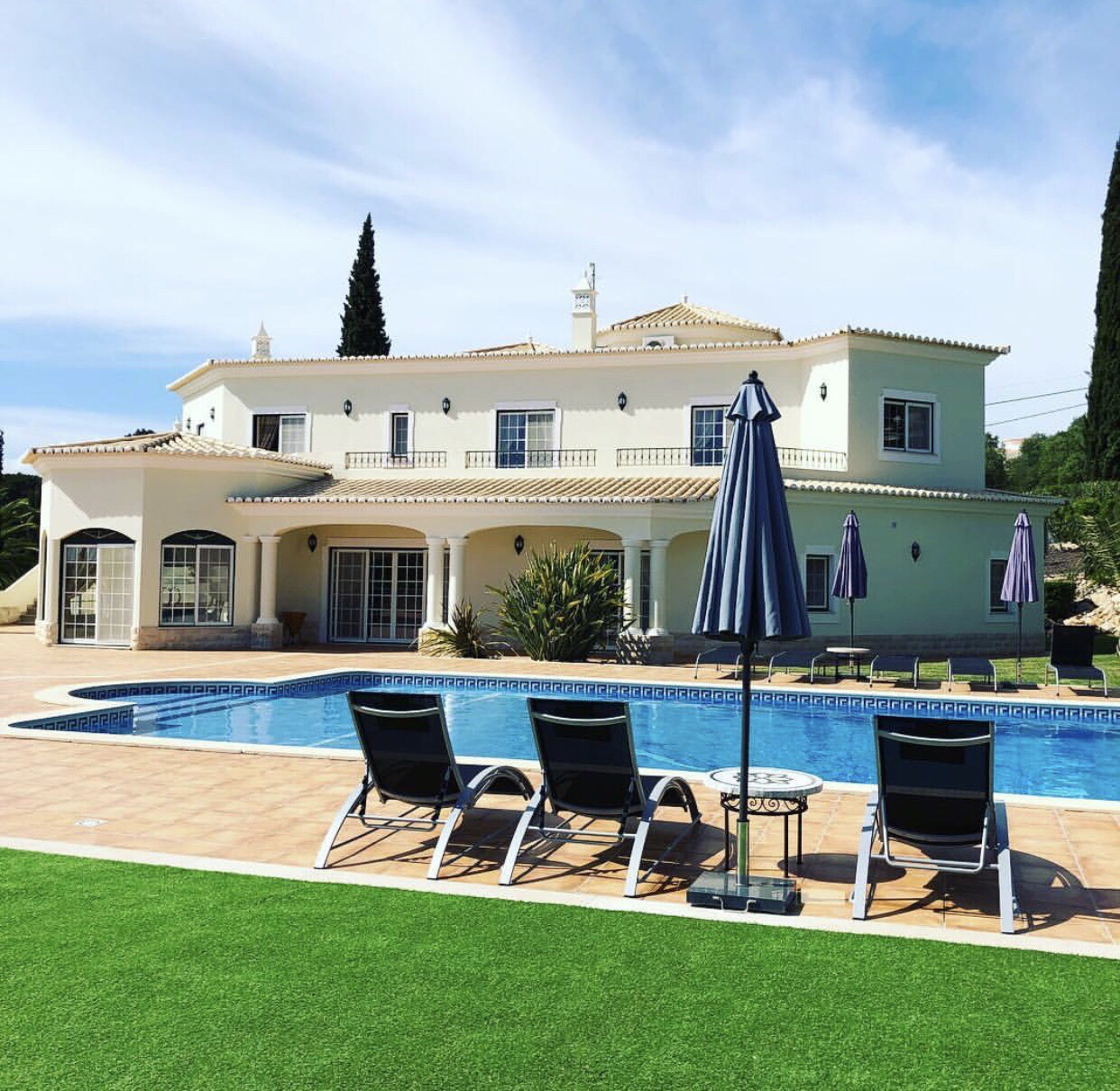 Review: Monte Judea – Affinity Villas, Algarve, Portugal
18/07/2018
My daughter recently got married in Portugal.  For the event we hired out a villa in the Algarve. Monte Judea is one of many villas in southern Portugal owned by Affinity Villas. Their website is very user-friendly and allows you to have a virtual tour of each of their properties, and also provides in-dept information about each location and the facilities and amenities nearby.
Our initial requirements were for a villa that could sleep about 10 people comfortably, with a scenic view, a heated pool, air conditioning, wifi and a fully equipped kitchen.  A bonus would be if it was also close to amenities like the supermarket and beach etc.  Affinity have several villas that fit these criteria, so we directed our focus to the south-western part of the Algarve, Portamao in Alvor, as this is a reasonably quiet location. Monte Judea is situated in a residential location amid an extensive landscaped backdrop.  As the name suggests, it is positioned on a hill. It was certainly not the cheapest of the available options but once we examined the photos of the property and compared all the accompanying amenities, it was hard not to spend that little bit extra.  The price to hire it out for one week in May (low season) will set you back around £1463, plus a £500 refundable deposit.
The villa is completely private and can only be accessed using the gate key provided. It includes a well-manicured garden lined with various Evergreens and Willows and looks out onto the surrounding countryside. The outside amenities also include a children's playground.
The rear of the villa looks out onto an elevated patio area which houses a very large swimming pool (heatable) plus loungers and umbrellas; a covered outdoor dining area with adjacent built in charcoal barbecue; and a utilities room with a washing machine, dryer and airers.
The inside of the villa is bright, spacious, tastefully decorated and is accessorised with everything needed to entertain its guests, young and old.  On entering, you first notice the elegant dark wood staircase which leads up to the Master bedroom, complete with walk-in closet, en-suite bathroom and a Jacuzzi.  There are three spacious bedrooms on this upper floor, each with balconies and a breath-taking view of the pool and the luscious grounds beyond. Also on this level is a computer gaming room and a fully equipped office. On the ground floor below there are two more bedrooms, both with en-suite bathrooms, one includes a Jacuzzi.  The kitchen is spacious and equipped with all necessary appliances and every utensil you can think of.  This leads on to a beautiful pool-facing dining area and is adjacent to the main living room which is inviting and comfortable.  There is also a lower ground floor which houses a large screen cinema area and a collection of old classic movies (DVDs).  This open planned area also has a section set up for table tennis; a kids play area with a number or toys and board games; a lounge area, plus a workout and bar area.  There is also an extra bathroom on this floor with a power shower.
What I liked best
The property is spacious, private and well equipped
The landscaped gardens with picturesque views from the balconies
Bricked outdoor BBQ
Large heatable pool
remote control blackout blinds
Indoor cinema
What I didn't like
The cleaners, who were to visit once for that week, did not arrive within the specified time and did not clean anything, or change towels until we called to complain. Their excuse was that there was too much stuff around (which should be expected in a house that sleeps 10) and they did not want to move anything. This was disappointing.
Guests are required to dispose of rubbish themselves by taking it about a mile down the road to local refuse area. This meant loading the smelly rubbish into your vehicle which is not ideal.
Our deposit of £500 was not fully refunded because the wind blew one of the umbrellas onto the grounds and a spoke was damaged.  We were disappointed with the housekeeper's decision to charge us for this when the damage was caused by the weather and out of our control.
The TV in the main living room could only be used if you had an Amazon Prime subscription
Make sure you read the rule book on arrival and adhere as the owners will not hesitate to extract an extra charge from your deposit.
Summary
All in all we enjoyed our stay at Monte Judea.  It was as luxurious as a 5+ star hotel, despite there being no room service.  We had to provide our own food and keep the place clean and tidy but we were in a very spacious, private and well-equipped property with an amazing view.
Lastly the town of Alvor is very quaint fishing village where fresh seafood is abundant, as well as many traditional Portuguese bakeries. The locals are friendly and welcoming too. The nearby beach Tres Irmaos, is said to one the nicest beaches in the Algarve, with its beautiful caves and rock formations.  A must do day trip.  I hope to revisit this town and property again one day soon.