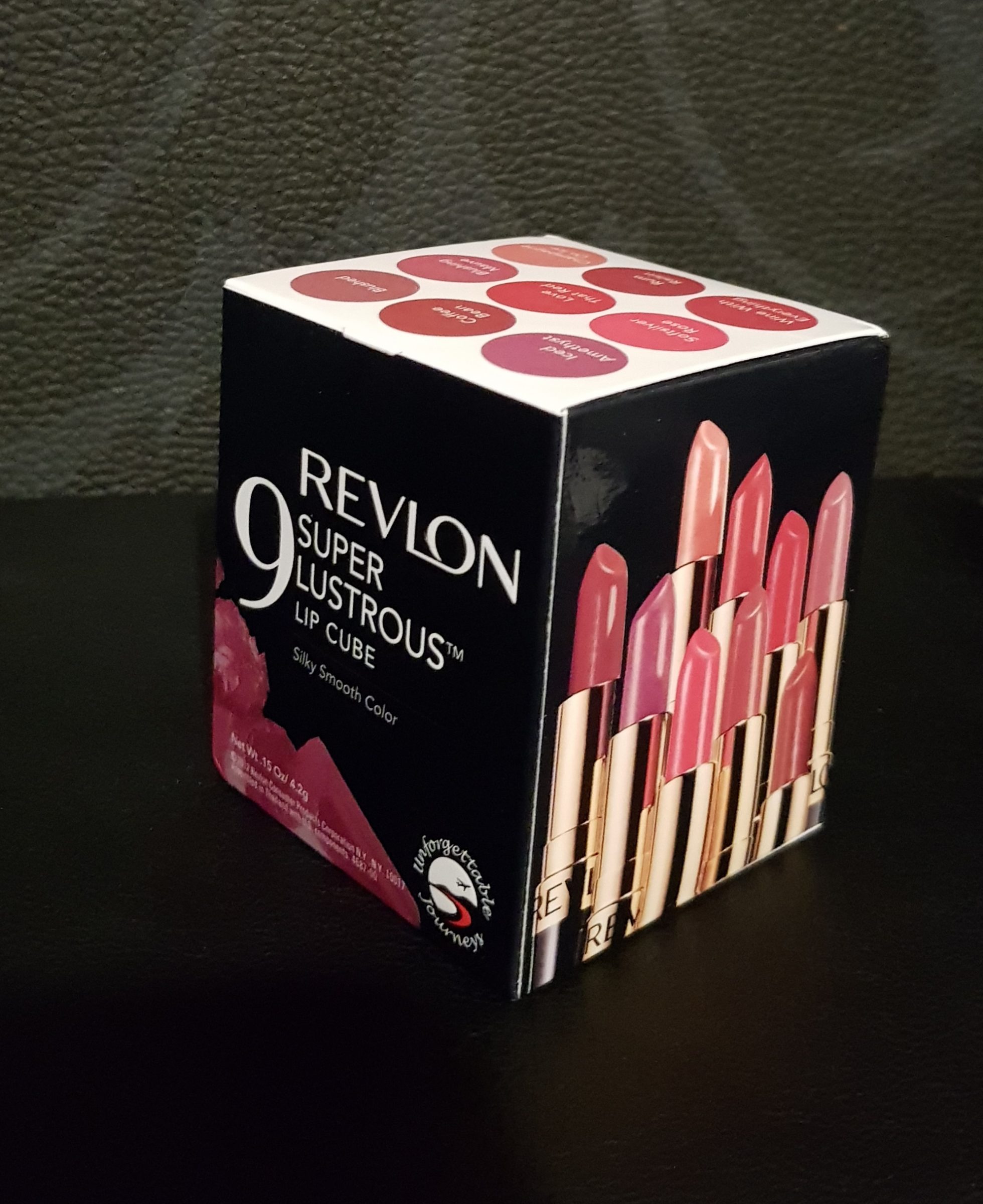 Review: Revlon Super Lustrous Lip Cube set
02/12/2017
I was on a BA flight recently when I realised I had only packed one lipstick. Whilst browsing through the cosmetic section of British Airways High Life Magazine, I came across an advertisement for Revlon Super Lustrous Lip Cube. My attention was immediately drawn to this gift set because there were 9 apparently full sized lipsticks in the cube and the price was only £39. That would make each stick about £4.40, which was very reasonable. All of the shades were appealing to me, and I felt they would suit my skin tone. I was poised and ready to make my purchase. However, unfortunately, because there were problems with the credit card machine on our flight, the Duty Free service was suspended. (See my blog Gridlock in the Aisles). I therefore had to suffice with only 1 stick of lipstick for my 10 day vacation.
After returning to UK, I was still curious about this missed opportunity. I did some hunting online and was able to find the same product on a website called BeSafe.  What's more, they were selling it for an even better price than offered in the onboard BA Highlife magazine (proof that Duty Free shopping does not always offer the best deals, even if tax free). It cost me £25 plus £2.50 for postage.
Now that I have received my order, I can give you a summarised review:  The gift set was packaged nicely in s compact cube which was sealed in cellophane. There are indeed 9 full sized lipsticks in the pack. The colours are mostly soft nude colours which include the following shades: Iced Amethyst, Coffee Bean, Blushed, Soft silver Rose Love That Red, Blushing Mauve, Wine With Everything, Rum Raisin, Champagne on Ice – Each lipstick is 4.2g
What I liked:
The lipsticks were well packaged. The box was covered in a cellophane plastic. Then, inside each lipstick was also individually wrapped with a cellophane seal. Making it a perfect and attractive gift set.  Also, because each individual lipstick was sealed, it could be given away as separate gift.
The colours and tones are mostly warm.  7 out of the 9 had a shimmery (pearl) effect which brought the colour to life. Two of the colours have a more creamy finish. My favourite shade is 725 Love that Red, which is one of the cream based shades.  Its a bright red with a hint of electric pink.
All of the shades blended nicely with each other, so if you wanted to, you could mix and match.  All shades complimented both dark and light skin tones.
The texture of each lipstick is very smooth and moisturizing. They really were "Super Lustrous".
The gift set is good value for money. Nine full-sized Revlon lipsticks for £25 is a good deal.
What I didn't like:
The shimmery shades  are a bit translucent, so you need to put a couple of layers on to get good visibility, especially on brown skin. The two creamier colours (535 Rum and Raisin and 725 Love that Red) had better coverage.
The casing for the lipstick is quite cheap looking (apart from the gold Revlon  strip)
The lipstick seems to wear off after about 1-2 hours