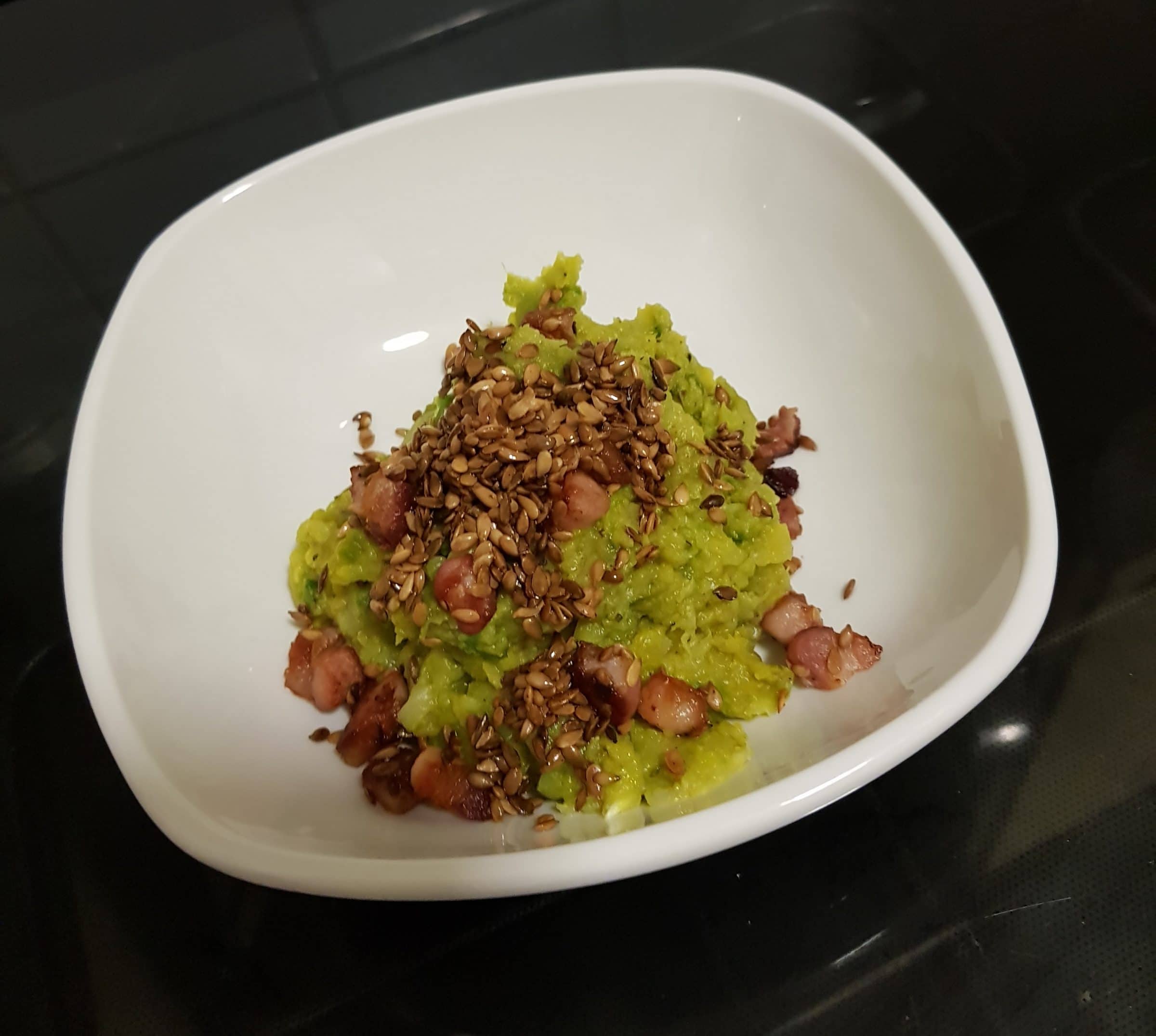 Smashed Brussels sprouts with tumeric, pancetta and toasted linseed
22/12/2017
Its a few days before Christmas – a time when I like to try out new recipes and tweak old ones. One of the most traditional vegetable accompaniments to a British Christmas dinner is Brussels sprouts. These green leafy vegetables, which look like mini cabbages have a pungent nutty flavour with a slightly bitter after taste. Despite the fact they are purchased and cooked every Christmas by many, it's not to everyone's taste. I think most people, like myself, cook it out of tradition, or for its nutritional value rather than for the love of it. In fact it's the only vegetable that I have been unable to get my kids to eat over the years.
This year, I am determined to get my now grown up children and dinner guests to eat and enjoy sprouts. I have tinkered around with a few ingredients and come up with this simple recipe which I hope you will like.
Ingredients
500g Brussels sprouts
1 Tablespoon of turmeric powder
Sea salt and freshly ground black pepper to taste
2/3 garlic cloves
Approx 180g of pancetta or bacon lardons
1 Tablespoon of golden linseed
Method:
Microwave, steam or boil the sprouts with the garlic cloves in salted water until quite soft.
Once cooked, add a little olive oil, the turmeric plus salt and pepper to your taste. Mash or blend to your desired texture.
Lightly fry the pancetta until golden brown. Toss the linseed into the frying pan for the last minute. One browned, pour over the sprout mash
Eat and enjoy
I am happy to say that this dish was not only easy to make, but also enjoyable to eat. I tried it out on my daughter some today by adding some to her meal. Not only did she eat all of it, she said it was a definite improvement to regular sprouts.
For those of you who are not pork or meat eaters, swap the pancetta for grated pickled beetroot.  The colour combination is vibrant, and it adds a nice zing to the dish. Try it and let me know what you think.