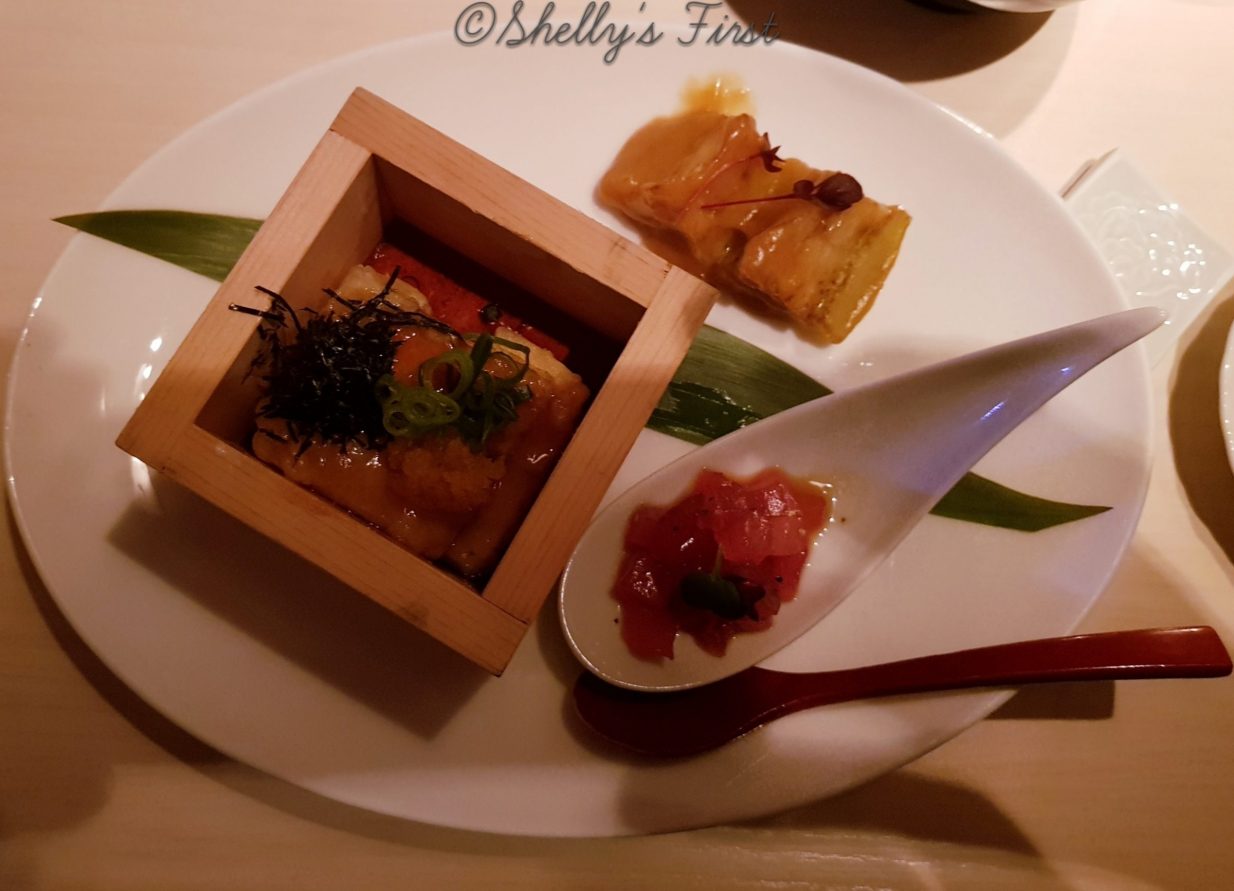 Review – Sake No Hana restaurant, London
08/04/2018
Sake No Hana is a modern Japanese restaurant in Mayfair (part of the Hakasan Group).  My first impression when entering the building is that it was a classy establishment.  You are immediately greeted by well-dressed friendly staff, who take your coat and then show you to your seat.  Optionally you can wait in the bar area where several Japanese beers, cocktails or tasty mocktails are available, together with the more classic cocktails and wines.  Entrance to the dining area was up on the floor above via quite a steep escalator. The décor is modern and relaxed. For Spring 2018 the interior had a makeover by a Japanese architect. In celebration of cherry blossom season, hanging from the ceiling was an art installation of paper blossoms, accentuated with a light projection, to create the look of cherry blossoms blowing in the wind.
We chose the Taste of Sake No Hana menu – two courses for £29 or three courses for £34.  As a pre-starter, we were given white miso soup, which we drank from the bowl.  There were then various options for each course that followed. I chose the tuna tartar with deep fried tofu as my starter.  This dish was very well-presented in a wooden box and was extremely tasty.  The tofu, which I don't usually enjoy, was particularly good.  Part two of my starter was a sushi selection.  My choice which included salmon, tuna and tofu was again beautifully presented.  This time, in a see-thru Perspex box. I was very content after eating my starters and was at this point hoping that the main course would not be too heavy. I went for the Chargrilled Salmon Teriyaki.  As expected, this was cooked to perfection and beautifully laid out on a hoba leaf. We ordered a rice bowl to share accompany our main. This was more than enough.  The next course was to be their signature dessert. However, I didn't opt for dessert on this occasion as I completely full.
What I liked: I thoroughly enjoyed my meal and loved the presentation. I thought the price was very reasonable.  There was a good variety of cocktails available too. The waiters were friendly and attentive and did not hover around too much.  It's the perfect place for a romantic meal or just to chill with friends.
What I didn't like: There is only one set of toilets in the dining area, which contained one cubicle each for men and women.  Therefore, potentially one would need to loiter outside the loos if they were occupied. Secondly, on my visit we were celebrating a birthday and wanted to bring our own cake.  However, the cover charge for this was £7 per slice, which I think is too much.
All in all I would recommend a visit to Sake no Hana.  Great food, good atmosphere and very reasonably priced.