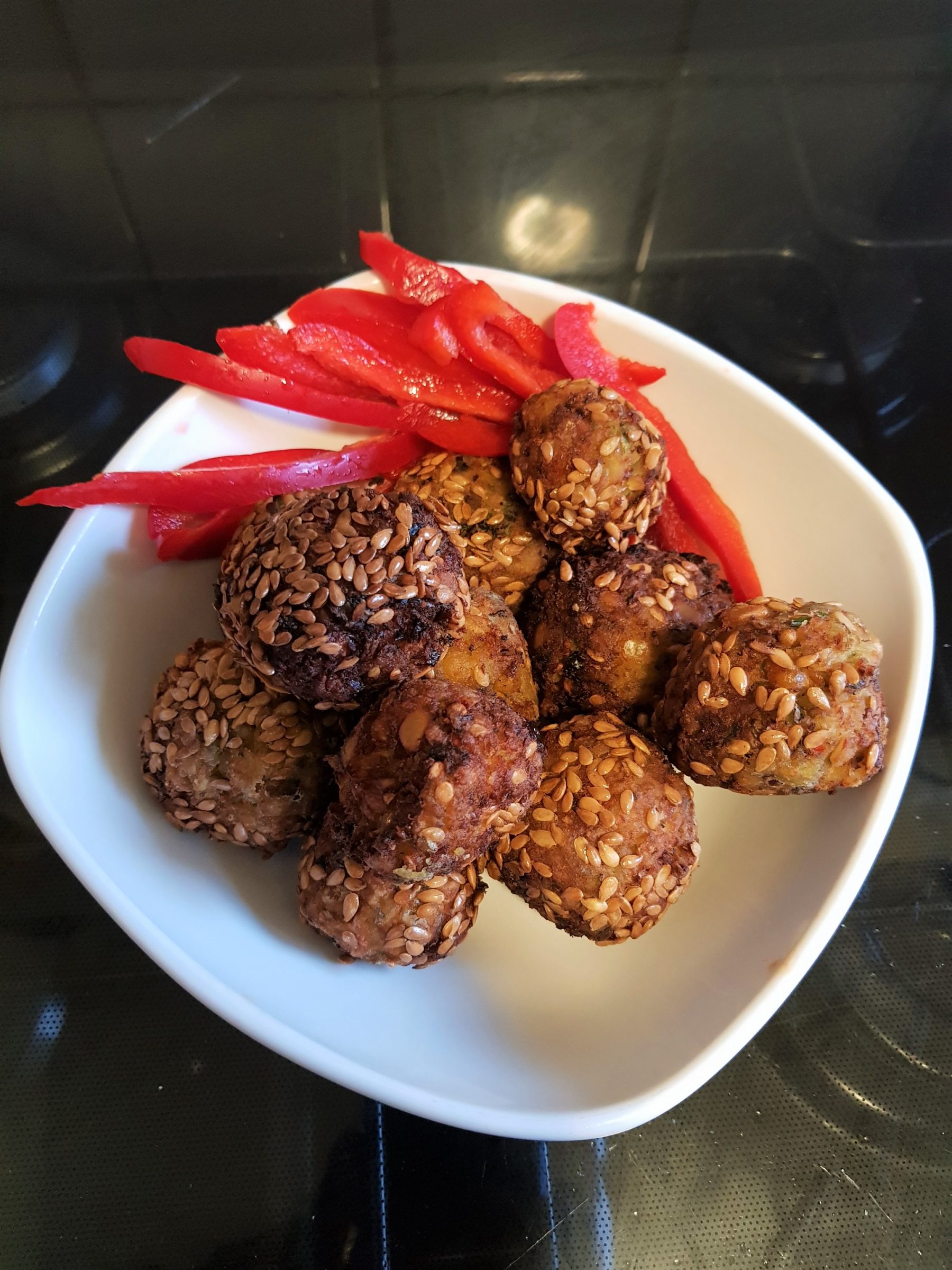 Spicy Homemade Falafels
24/04/2018
I love falafels, so decided to find an authentic recipe to allow me to make them myself at home.  The only thing I knew about falafels was that chickpea is one of the main ingredients, and that they are a traditional Middle Eastern staple.  I learned that in fact the dish originated in Egypt (North Africa).  I compared a number of recipes as I wanted mine to be authentic. Whilst looking, I learned that the main ingredient was not necessarily chickpea, but that in some regions broad bean (also known as fava bean), or a combination of both are used.  The basic ingredients found in almost every recipe are chickpeas (or broad beans), coriander, onion, garlic and either breadcrumbs or sesame seeds to coat. I noticed that some recipes contained extra ingredients like bicarbonate of soda, flour and egg.  For my falafels I followed a traditional recipe as much as I could, but made some adaptations based on my preferences and the ingredients I had at home. 
Here are the ingredients I used in my recipe:
1 cup of cooked chickpeas
3-4 garlic cloves
half a cup of chopped and cooked curly kale
½ a red onion
1 large spring onion
1 small shallot
½ teaspoon of bicarbonate of soda
half of a fresh red chilli pepper
1 teaspoon of cumin plus salt and black pepper
Lemon Juice
Flaxseeds
Method
Falafels are quite easy to make. Once you have all of your ingredients ready.  Blend them together in a food processor slowly (with a pulse) so as not to over process.  Some recipes suggest that you blend everything until you have a completely smooth mixture.  However, if you prefer a more wholesome or dense falafel, then you should not make the mixture too smooth.  For my recipe, I separated my ingredients into two halves.  I blended one half until it was a smooth paste (I added the lemon juice to help with this). The other half was less pulverised and had more of a course texture. I then combined them both.  I had to tailor my recipe according to ingredients I had at home. I didn't have any coriander and therefore used finely chopped curly Kale instead.  Also, because I love onions and garlic I had a high quantity of both in mine.  Most recipes suggest half an onion and maybe 2 cloves of garlic. I decided to include bicarbonate of soda in my recipe to ensure they were not too dense.  Many of the recipes I looked at suggest that you then refrigerate the mixture for about half an hour. This is to make it easier to shape. To do this I sectioned off small pieces by hand (or you could use a falafel scoop). I dusted with flour and then rolled into balls (you can also flatten them out like a patty).  In some recipes, they were then coated in breadcrumbs or sesame seeds before frying.  I liked the idea of sesame seeds, but did not have any, so used flaxseeds instead. 
Shallow frying is possible, but I soon realised that deep frying was the best option. I used a small pot with enough oil to almost cover them. Once the oil was hot enough they cooked very quickly.  I was very pleased with the end result.  They not only looked good but were very tasty. I served mine with salad and a tahini dip.  They are traditionally served with pitta or wrap breads, salads and pickles.
My family loved them!