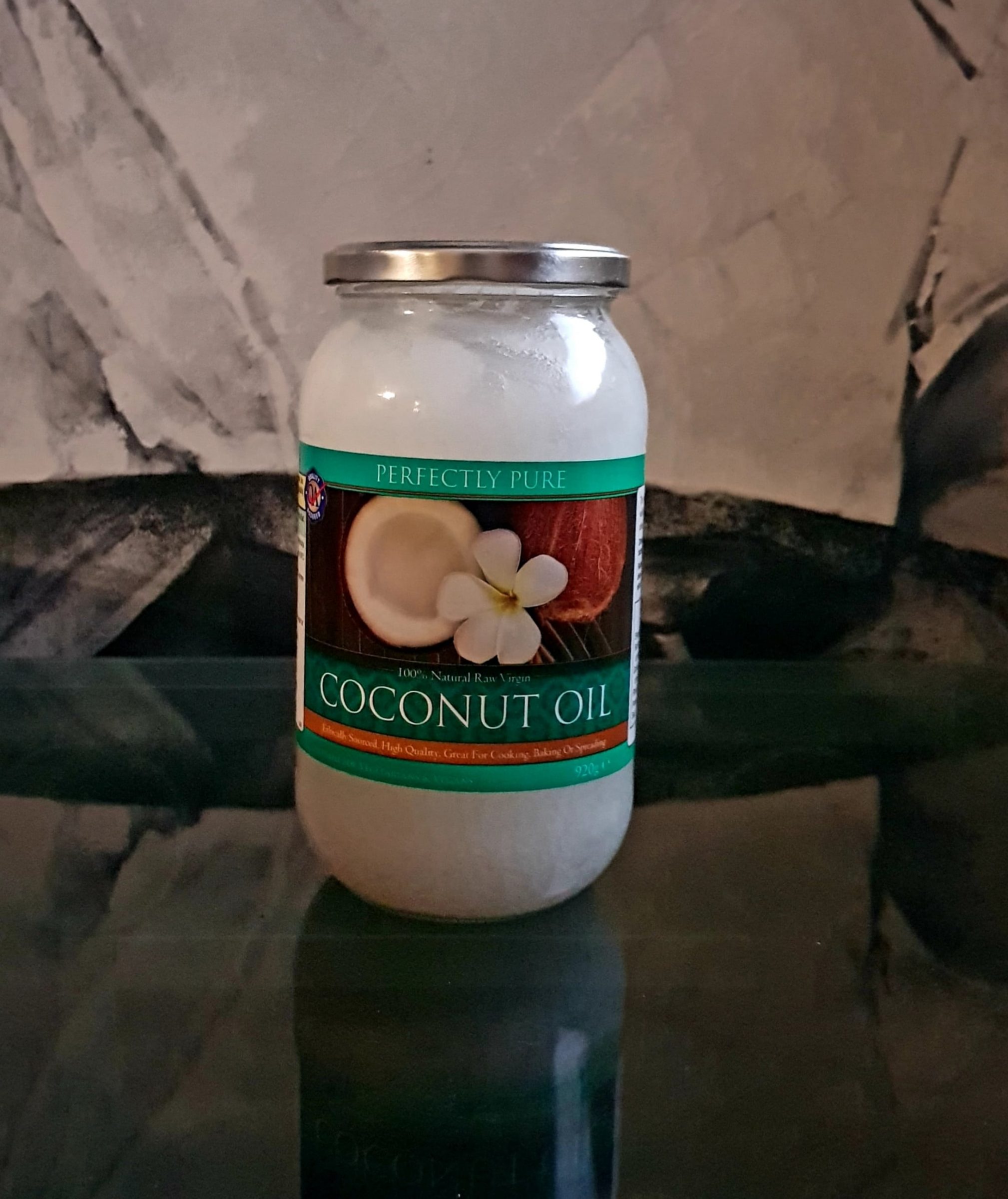 Perfectly Pure Coconut Oil – 2017 Best Buy No. 5
01/01/2018
I have been using coconut oils for a few years now. Perfectly Pure Coconut Oil is 100% raw and a natural cold pressed coconut oil. I use it on my skin as a moisturiser;  blend with Tea Tree oil to use on my hair and feet;  and I use it as a replacement cooking oil in various dishes. It can also be used in baking recipes, for brushing your teeth, or as a daily supplement. It has many uses.
over the years I have purchased various brands of coconut oils and paid various prices.  My cheapest was from a street vendor in Bali.  The oil was definitely pure, but had an off-putting burnt smell.  In the UK, I have found the cheapest brand to be KTC Coconut oil, which you can pick up from any supermarket for about £1.99  I feel this brand is more suited to cooking and refined enough for use on the skin.  My favourite brand, Perfectly Pure Coconut Oil is one of the more expensive coconut oils I have purchased.  Perfectly Pure is Holland & Barrett's own brand. I usually buy the largest jar (920g) from Holland and Barrett.  This usually lasts me about 2-3 months and cost around £21.99.  I try to make my purchase when Holland & Barrett have their penny sale, and get a second jar for 1 penny, making the price for each jar equivalent to approximately £11.00. However now that I am accustomed to this brand I would pay full price if I needed to.
One of the things I love about this oil is its smell.  It has a delicate aroma of fresh coconut, not too overpowering and not too subtle. Secondly, I find its texture to be very light and silky (almost whipped) when in its solid state.  It spreads very evenly over the skin and absorbs very well. There are no surprise lumps in the jar either.  It really does feel like a pure, refined coconut oil. I am aware that there are other brands that I have not tried in the same price range and maybe I will get around to those one day and do a full comparative review, but for now, this is my favourite coconut oil. I would definitely recommend it. That's why its one of my top 5 discoveries for 2017.
These are my top 5 at a glance:
HP Spectre x360 Laptop
Samsung Gear S2 Classic Rose Gold Smart Watch