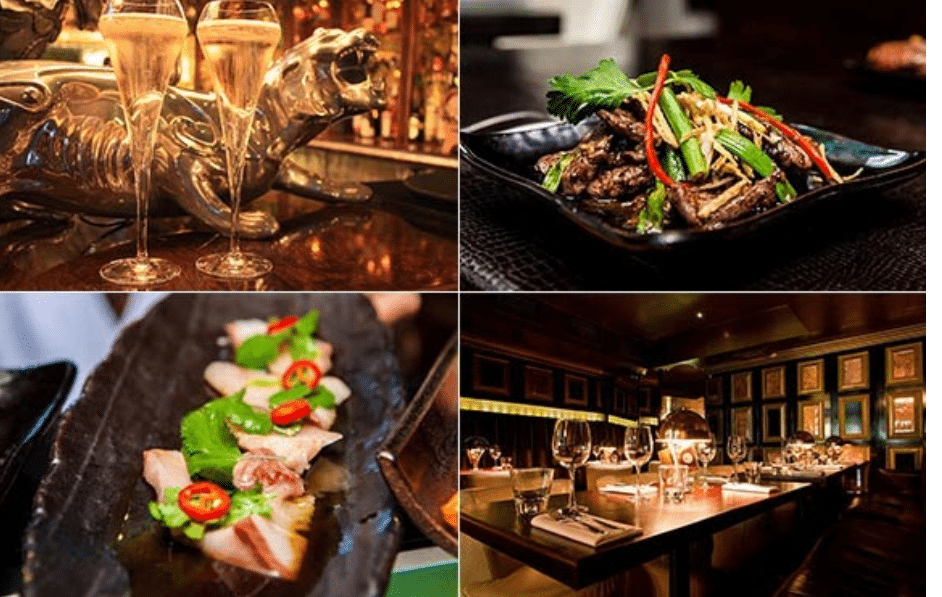 Review: Crazy Bear, Fitzrovia
17/03/2018

The award winning Crazy Bear is a very unique restaurant in Fitzrovia serving a fusion of Thai, Japanese and Chinese food.  Despite being located very close to Goodge Street station, it is not that easy to find.  The entrance (on Whitfield Street) is quite inconspicuous, with no signage.  However, once you enter the building you will be pleasantly surprised by the opulent décor, which is accented with quirky artefacts.  The dining area has several cosy booths, perfect for a date. It also has larger tables situated in alcoves with comfortable seating.  All-in-all the feel is cosy, romantic and stylish.
I tried the 12-plate signature menu – a selection of Thai, Chinese and Japanese dishes, which includes a glass of champagne (this was on offer for £33pp through Booktable), normally £62.50 per person.  Two courses were brought out at a time, served by very polite, friendly and attentive waiters.  There was the option to choose either the vegetarian or classic menu.  Both seemed tantalising, but I went for the classic.  Every dish was beautifully presented and tasted amazing. Portions were generous. I had a little of everything and was more than content. I struggled to finish my dessert.  Great value for money.
I decided to have a little wander around the restaurant en route to the ladies. As I walked down the quite grand staircase, I realised that the décor downstairs was even more quirky, yet cool, with more of a hip vibe. There was a cocktail bar aligned with cushioned bar stools; more cosy booths; lots of gold and bronze artefacts, and last but not least – a hanging Giraffe!  Music was playing and people were arriving and heading straight downstairs for drinks.
Finding the toilets was a bit of a challenge. They were secluded and camouflaged by mirrors. It took me while to work out how to enter the Ladies, and once inside there was more confusion, as you enter a mirrored room, so need to figure out which wall had a cubical behind it.  I am sure the staff have fun watching perplexed customers try to figure it all out. Good fun if you are not desperate to go!
I have had the pleasure of dining at Crazy Bear Fitzrovia twice and have thoroughly enjoyed each occasion.  I definitely recommend Crazy Bear for a date, or for dinner and drinks with friends.